Softproof on Press
Soft proofing at the press console.

At the press console there are two problems for softproofing:
1. Disturbing influence of ambient light
2. The size of the press sheet doesn´t fit the monitor
JUST offers customized and modular solutions to printers to retrofit existing press consoles.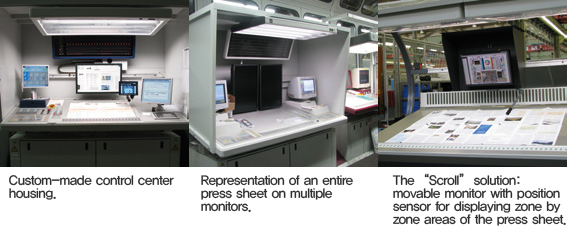 Customized soft proofing on press solution: To control the disturbing influence of ambient light JUST provides individually developed press console enclosures which are either mounted directly at the console or free standing around the console. Sheet format – screen size: JUST is offering two approaches: 1. For the use of multiple monitors side by side in order to display the complete sheet size at a glance JUST provides a stable rossbar with multiple VESA monitor mounts. 2. Some softproof software solutions are supporting the "scroll" version: where a monitor is moved on a "tracking rail" zone by zone, back and forth. The built-in position sensor enables the display to show the exact detail of the press sheet where the monitor is positioned.